West Kiss Hair
There are more and more types of wigs on the market. Do women know how to choose a wig that they like and suits them? This needs to be considered in many ways.
1. Choose Hair Texture
There are many hair textures, such as straight hair, body wave hair, curly hair, deep wave hair, loose deep wave hair, water wave hair, and so on. Straight and Body Wave hair are relatively easy to manage. All other types of hair require more care. If women are not good at managing hair, choose a straight hair wig or body wave hair wig.
2. Choose Hair Color
One of the great things about wearing a wig is that women can choose any hair color they like. Women can achieve different colors of hair without damaging their hair with chemical treatment. So choose the color women favor! The best-selling wig on the market is the natural black human hair wig because it is as natural as our hair. Women can wear natural black hair wigs anywhere, at work, on campus, or at a party.
3. Choose Lace
Lace is a vital part of lace wigs human hair and the secret to making them more natural. There is a world of differences between different types of lace. Usually, lace selection is based on the size and color of the lace.
A. Lace size
There are two major categories of lace size: lace closure and lace frontal. Lace closure wigs have three sizes: 4x4 lace closure wigs, 5x5 lace closure wigs, and 6x6 lace closure wigs. The number means the length of the lace, the larger the number, the larger the size of the lace. Lace frontal wigs have more parting space in the front than lace closure wigs. Lace front wigs include 13x4 lace front wigs, 13x6 lace front wigs, 360 lace front wigs, 370 lace front wigs, and full lace wigs. The lace size of lace frontal wigs is larger than lace closure wigs. If lace is larger, women will have more space to part their hair. Therefore, the larger the lace size, the higher the price of the wig.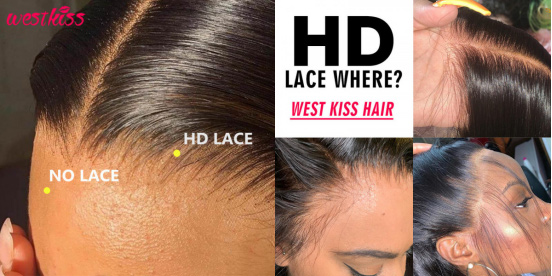 B. Lace color and texture
The purpose of lace is to make wigs more breathable, natural, and comfortable, so the choice of lace color and texture is a crucial part of the wig purchase. Most lace wigs on the market are made of Swiss lace. Swiss lace comes in three main colors: medium brown, light brown, and transparent. Women with darker skin can opt for medium brown lace; Women with less than dark skin can opt for light brown lace; Women with lighter skin can opt for transparent lace.
In addition to the three kinds of lace mentioned above, there is another kind of lace called HD lace. Compared to other types of lace, HD lace is more delicate, thin, and transparent. HD lace can be blended with any skin color, which means that women of any skin color can boldly try HD lace wigs. Of course, HD lace's high transparency and light texture make it more expensive than other lace. The downside, of course, is that it needs more care, or it will have a shorter lifespan than regular Swiss lace.
4. Choose Hair Length And Density
Lace wigs on the market usually range in length from 8 to 40 inches. The longer the hair, the more expensive the wig. Long hair also takes longer to treat. Choose the length of the wig as they like. Hair density refers to the thickness of the wig, and there are usually four density options to choose from 150%, 180%, 200%, and 250%. The larger the amount, the thicker and more expensive the wig. It is important to note that the longer the wig, the thinner the hair will appear. So if a girl like long hair, go for a high-density wig.
West Kiss Hair has been manufacturing and selling all kinds of wigs for decades and has a mature and complete wig-making process. In addition to lace wigs, they also sell a variety of human hair bundles, lace closures, and lace front wigs.
What reassures female consumers is that West Kiss Hair has official accounts on various social platforms, a professional after-sales team, and a policy of no reason to return and exchange products.
Media Contact
Company Name: West Kiss Hair
Contact Person: Media Relations
Email: Send Email
Phone: +8613323741050
Address:6-1-1101, Tianji Ideal City, Xuji Street
City: Zhengzhou
State: Henan
Country: China
Website: westkiss.com