Is a Mutual Fund Conversion to ETFs Right for Your Business?
May 13, 2022 at 13:56 PM EDT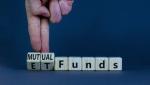 Mutual fund conversion to the ETF wrapper is an increasingly popular option that companies have been partaking in for their clients in 2021 and 2022. The New York Stock Exchange recently hosted a webinar for asset managers looking to grow their ETF business through the recently available option of...