A motivational speaker in Las Vegas is helping children in need this winter with Christmas gifts they'll never forget. Marvelless Mark and other generous volunteers put together 300 boxes of gifts to ship out in time for Christmas and are raising money for stamps.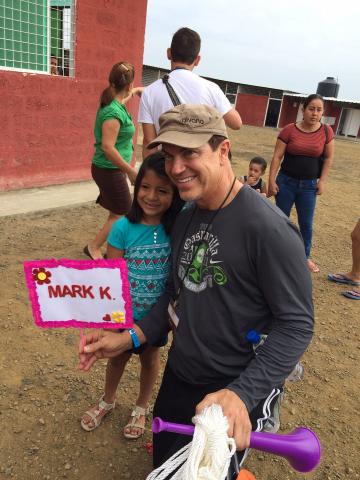 Las Vegas, United States - November 4, 2021 /PressCable/ —
Rockstar Motivational Keynote Speaker Marvelless Mark Kamp partnered with Operation Christmas Child to provide Christmas cheer to children in Las Vegas and around the world. Kamp, along with several other volunteers from his church Southern Hills Of Las Vegas assembled 300 shoe boxes filled with school supplies, hygiene products, and children's toys. Now, they're raising money for postage. The boxes will cost $9 each to ship in time for Christmas.
Marvelless Mark has been motivating and bringing out the "inner rock star" in people for more than 25 years with his unique brand of experiential keynote presentations. Using lessons learned from top musicians, he helps businesses and organizations elevate their "performance" and create a unified "band" with team members working towards the same grand vision. Not your usual motivational keynote, or training experience, attendees will face one another in a "Battle of the Bands" and bang out drum lines with custom drum sticks.
Find out his availability for motivational speaking in Las Vegas, NV here: https://www.marvellessmark.com/las-vegas-motivational-keynote-speaker/
From day one, the motivational Marvelless Mark has worked to make his fellow human's lives better, both on stage and off stage. He's served his community and his church for many years, doing God's work to make the world a better place. "Life gives to the giver and takes from the taker," says Kamp. "When you give more you get more. We are made to live in a community and serve."
Operation Christmas Child was started in 1993 when the President of Samaritan's Purse received a call from a man in England. He shared the story of children in Bosnia suffering from a brutal civil war and asked for shoeboxes filled with presents to deliver to the kids on Christmas. Since then, the organization has partnered with local churches around the world to deliver 157 million shoebox gifts to children in 160 countries. The shoeboxes are filled with toiletries, school supplies, and toys, and sent with a prayer that the child will experience God's love.
"Adults make their own choices, but kids don't have that freedom," says Kamp. "When you change the life of a child today you are making the world a better place for tomorrow."
Donations for postage can be made at https://www.southernhillslv.com/give
About Marvelless Mark
With the work ethic of a Missouri farm boy, decades of successful entrepreneurship experience and the stage presence of a radio personality and Las Vegas headliner, Mark Kamp, aka Marvelless Mark®, is truly one-of- a-kind.
For over 25 years, Mark's electrifying and unforgettable presentations have left audiences jumping out of their seats, yelling for more and most importantly, learning priceless new strategies to impact their business. He is the customer and employee engagement guru.
Mark began inspiring audiences with his acclaimed book Opportunity Rocks®. After the book was featured in USA Today, Small Business Trendsetters, Business Innovators, and TBN, it didn't take long for Marvelless Mark to have his own following of screaming fans.
Now the exuberant keynote motivational speaking experience it is today, Mark Kamp's mission is to unlock everyone's inner rock star, wherever that may take him.
Learn more or book Marvelless Mark internationally for keynote speaking here: https://www.marvellessmark.com/
About Samaritan's Purse
The story of the Good Samaritan (Luke 10:30-37) gives a clear picture of God's desire for us to help those in desperate need wherever we find them. After describing how the Samaritan rescued a hurting man whom others had passed by, Jesus told His hearers, "Go and do likewise." For over 50 years, Samaritan's Purse has done our utmost to follow Christ's command by going to the aid of the world's poor, sick, and suffering. We are an effective means of reaching hurting people in countries around the world with food, medicine, and other assistance in the Name of Jesus Christ.
More information on Samaritan's Purse and Operation Christmas Child can be found here: https://www.samaritanspurse.org/what-we-do/operation-christmas-child/
Contact Info:
Name: Mark Kamp
Email: Send Email
Organization: Marvelless Mark Speaks
Address: 452 E Silverado Ranch Blvd suite 120-395, Las Vegas, NV 89183, United States
Phone: +1-877-976-2566
Website: https://www.marvellessmark.com/about-marvelless-mark/
Source: PressCable
Release ID: 89051745