Maropost helped Giftagram, provider of memorable corporate gifts and recognition programs, with sender reputation, engagement and conversion rates.
(PRUnderground) November 2nd, 2021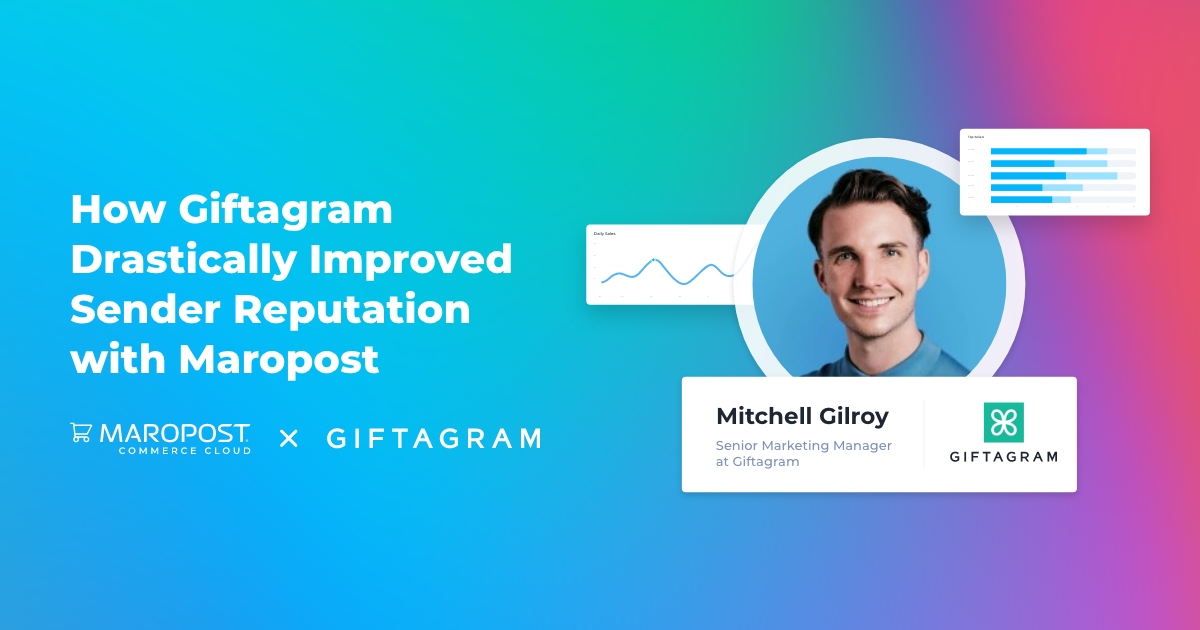 Maropost, leader in the ecommerce and multi-channel marketing software, is known for its high deliverability, inbox placement and conversion rate features. All of that was exactly what Giftagram, a personal gift concierge, needed to level up their email marketing game. 
Giftagram relies heavily on emails and wanted to boost its deliverability. To help them avoid the spam folder and uplevel their sender reputation, Maropost came in.
In five short weeks, Giftagram achieved just that – open rates jumped to 25%, and their sender reputation improved too.
"Once we improved our deliverability, we saw a 33% increase in YOY for our Father's Day sales. This direct correlation between email and revenue is all that we needed to see just how powerful email is, and how harmful incorrect strategies could be," – Mitchell Gillroy, Senior Marketing Manager at Giftagram.
Maropost is continuously working with Giftagram to maintain this success and help Giftagram serve their customers well. "We're delighted to see these results and will work hard together with Maropost to maintain our strong reputation," – says Mitchell.
Thanks to the wide array of solutions that Maropost offers, it's easy to identify what's performing well and what needs improvement.
"Seeing the real impact we're having on businesses is inspiring. Uncovering the underlying reasons, not just the symptoms like low engagement, is what we do best. With the help of tools like Maropost Marketing Cloud, we can clearly see what's affecting all metrics and what's the best way of maximizing success. We pass on that knowledge to our clients like Giftagram and the results speak for themselves," – Jacopo Mauri, Head of Marketing at Maropost.
Giftagram was able to get great results and find better ways of serving their customers just in time for the busy holiday season. Their entire case study with many more details is available here.
About MAROPOST
Maropost is on a mission to revolutionize the way Marketing and eCommerce Automation work together.
By providing companies with Marketing Cloud and Commerce Cloud, Maropost allows B2C organizations to streamline their audience engagement, customer acquisition and revenue growth. The company serves customers across multiple channels, such as email and mobile/SMS marketing automation and ecommerce, while providing unparalleled inbox deliverability, advanced reporting and industry-leading audience building and customer journeys.
Founded in 2011 by Ross Andrew Paquette, Maropost has been featured in Deloitte's Technology Fast 500 list multiple years in a row and recognized over the years as the best way to simplify marketing automation, by also adding advanced ecommerce functionalities.
For more information, please Visit Maropost.com!
The post How Giftagram Drastically Improved Sender Reputation with Maropost – Case Study first appeared on PRUnderground.
Press Contact
Name: Jacopo Mauri

Phone: 1.888.438.3152

Email: Contact Us

Website: https://www.maropost.com
Original Press Release.