Laser Wellness Hairtattoo.ca extending revolutionary Scalp Micropigmentation therapy for non-invasive hair restoration to clients in Toronto, Richmond Hill the Greater Toronto Area.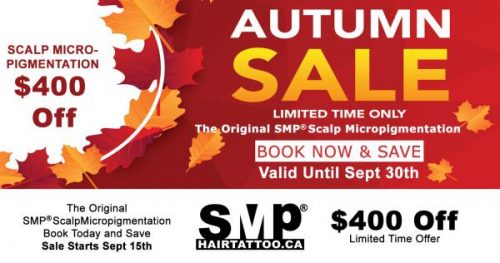 Toronto, Canada - September 24, 2021 /PressCable/ —
Hairtattoo.ca is offering state-of-the-art SMP treatment to conceal hair loss and assure hair restoration.
Leading laser therapy Center Laser Wellness is pleased to announce that it's currently offering breakthrough Scalp Micropigmentation services through its major division SMP Hair Tattoo Clinic. The next-gen hair restoration therapy is a non-invasive and holistic procedure that assures long-term maintenance-free results for at least 5-8 years.
Essentially, Scalp Micropigmentation is a state-of-the-art cosmetic treatment engineered to conceal hair loss issues, especially in men. Also dubbed as "SMP", the procedure works somewhat like tattooing.
"We are extending the innovative original Scalp Micropigmentation therapy at our clinic by certified technicians only. As part of the procedure, our certified technicians place natural pigments on the scalp of the patient with the help of a cutting-edge machine fitted with a microneedle. The pigments are placed in the form of little dots all across the affected area of the scalp. After healing, the scalp develops the appearance of imitation hair follicles that create the edgy buzz-cut look. In cases of diffuse matter, the treatment works to create an underlying shading that rewards the clients with the look of a fuller head of hair", stated the spokesperson from hairtattoo.ca.
Per the statements of the spokesperson, Scalp Micropigmentation helps to restore the natural hairline in cases of moderate or complete baldness. One of the major benefits of the treatment is that SMP is compatible with a broad range of conditions. Also, SMP is a quick procedure and the results are immediate.
"One of the major benefits that keep Scalp Micropigmentation ahead of the curve is its quicker procedure time in comparison to other conventional hair loss treatments. Also, much to the convenience and relief of the clients, it's a non-invasive and holistic process. After the therapy has been performed and the client has been through some aftercare routines, he will experience a fuller maintenance-free look that would grace his head for around 3-8 years before a touch-up is required. Also, our innovative SMP therapy costs way less than other hair loss procedures such as hair transplants."
Speaking on, the spokesperson highlighted the multiple state-of-the-art benefits of Scalp Micropigmentation therapy.
● Restores natural hairline for both moderate and complete baldness issues
● Effectively hides various types of alopecia issues and diffuse thinning problems
● Successfully reduces scars or blemishes caused by burns or scars from hair transplant
● Uses plant-based natural ingredients for the pigments
● Safe treatment
● Affordable cost that comes at just a fraction of the exorbitant cost commanded by conventional hair loss treatment like hair transplantation
One of the best parts of Scalp Micropigmentation treatment is that, unlike the regular hair loss treatments, SMP does not give false hope by saying it would be able to promote hair growth. Rather, it guarantees to work by concealing the problem over striving to cure it since the latter part is quite a challenge to reverse.
"We assure you a safe Scalp Micropigmentation pigmentation by seasoned and certified technicians only, Our technicians carry the industry-leading SMP certification. We also assure you a clean, sterilized environment at our clinic to ensure a safe environment for our clients."
For more information, please visit https://hairtattoo.ca. Laser Wellness offers other treatments such as Tattoo Removal Clinic, Tattoo Regret Removal and Hair Loss Clinic in Toronto and the Greater Toronto Area.
Contact Info:
Name: Laser Wellness Team
Email: Send Email
Organization: Laser Wellness Clinic
Address: 600 Sherbourne St #609, Unit 3, Toronto, Ontario M4X 1W4, Canada
Phone: +1-416-668-1000
Website: https://laserwellness.ca
Source: PressCable
Release ID: 89046790