The MOBI Air Non-Contact Forehead Thermometer brings peace of mind to parents with an intrusion-free touchless digital health thermometer, with LED Health Indicators!
(PRUnderground) September 14th, 2021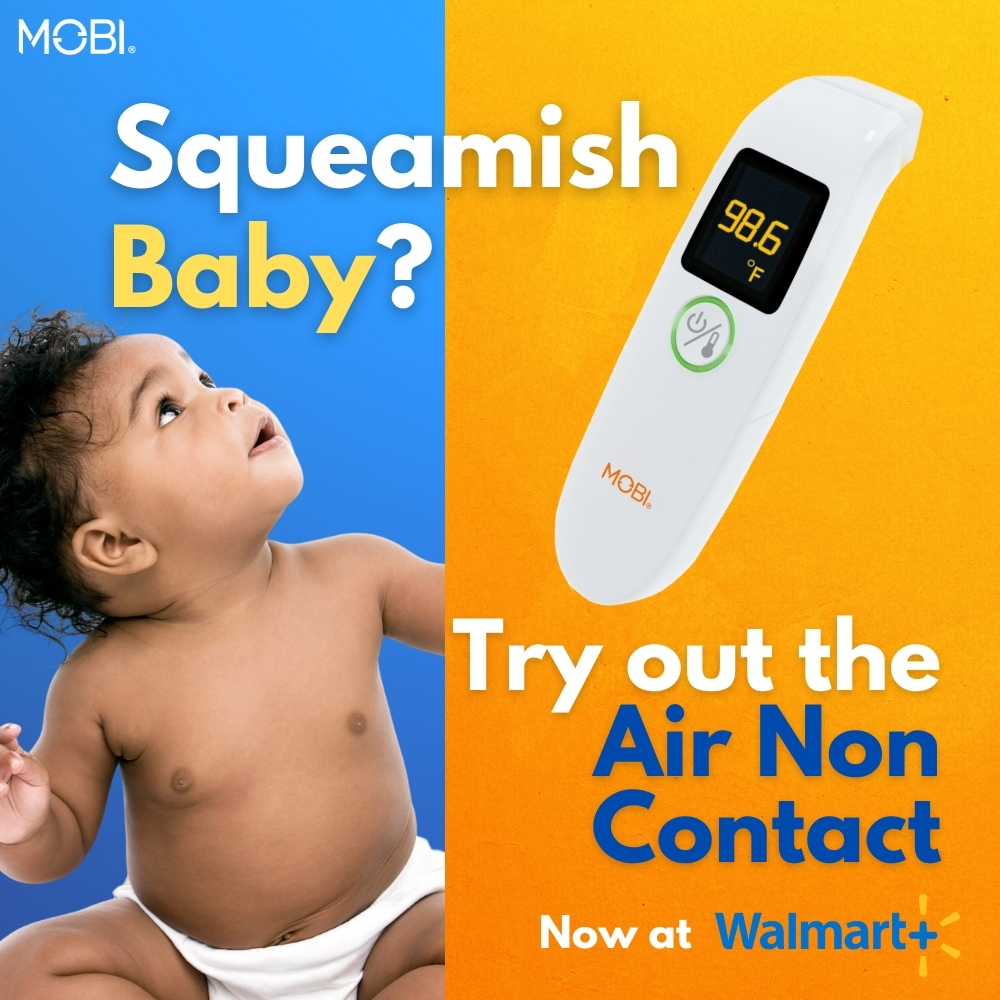 Just in time for the start of a potentially severe flu season, the MOBI Air Non-Contact Forehead Thermometer, a powerful touchless thermometer that can quickly check a baby's external temperature, is in stock and available now at Walmart.
After a mild flu season in 2020, experts warn that a one-two punch is possible in 2021, predicting a severe flu season and the possibility of additional COVID-19 variants for the unvaccinated. With less masking in public places than last year and public health uncertainty about Coronavirus, parents are right to be concerned that their babies could be more vulnerable than ever to illness.
The MOBI Air Non-Contact Forehead Thermometer takes the body temperature of babies and toddlers in 1 second without requiring physical tough when a user simply aims the unique integrated distance sensor at the baby's forehead. Built-in positioning guidance ensures accurate readings. There's no mistaking the accurate reading with this distance thermometer's large backlit display and color fever indicator lights.
The device also includes an automatic temperature trend indicator based on the previous reading so parents can see at a glance whether fever is going up or down. There's no need to write anything down with memory recall of up to 20 previous readings.
Because families don't know in advance when an illness will strike, health experts recommend having a thermometer on hand. When family or anyone else in the household appears to be ill, postponing the purchase of a thermometer could spread disease, and place babies at risk. Additionally, if the flu or another illness becomes widespread in a community, finding a reliable digital health thermometer could be difficult, due to high spikes in demand.
"With the MOBI Air Non-Contact Forehead Thermometer, you can check your baby's temperature when they're asleep or awake without them even knowing it. Just as great, this unintrusive touchless thermometer is rich in features, low in price, reliable, easy to use and readily available," said MOBI CEO David Naghi. "We can't always prevent our little ones from getting sick, but we can stay informed so we can take action quickly."
Additional features include the ability to check ambient temperature and make sure food isn't too hot for the baby – making for low-priced, 3-in-1 functionality use from a brand that consumers already trust. Readings can be displayed in Fahrenheit or Celsius and auto-shutoff helps preserve battery life.
The MOBI Air Non-Contact Forehead Thermometer is in stock now at Walmart. Simple, safe, available and affordable, this digital health thermometer is a sensible investment for helping protect your baby from whatever illnesses lie around the next corner.
Contact:
Sergio Velasquez
sergio.velasquez@getmobi.com
(323) 904-3009
Mobi Technologies Inc.
725 W. Washington Blvd.
Los Angeles, CA 90015
http://www.getmobi.com
About MOBI Technologies
MOBI Technologies Inc. is a consumer health and home electronics brand committed to elevating the consumer experience around digital living and wellness monitoring for all ages. Through intuitive, easy-to-use solutions and Home Health Tech kits, MOBI inspires smart living while catering to comfort when you need to manage and monitor vitals. Our award-winning home health portfolio is ever-growing, and today includes smart thermometers, blood pressure monitors, oxygen meters, nursery and room management solutions (smart cameras, door/window sensors, lighting control for wake/sleep/downtime, etc.), and other smart choices for convenience and peace-of-mind. Learn more about how MOBI can support your health management from home with tailored, trusted devices that can be easily added to and managed via a single app as you move through life's ages and stages. Explore our innovations at www.getmobi.com.
The post MOBI And Walmart Bring Parents Powerful, No-Touch Infrared Baby Thermometer For Start Of Flu Season first appeared on PRUnderground.
Press Contact
Name: Kiumars Haziq

Phone: 323-904-3000

Email: Contact Us

Website: https://www.productsbymobi.com
Original Press Release.