Can Agricultural Tech Help Combat Rising Food Prices?
July 19, 2021 at 12:00 PM EDT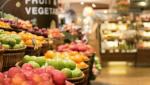 As inflation creeps into everyday consumer prices, one way to play the changing market is via a technology-focused: the Global X AgTech & Food Innovation ETF (KROP). Having technology that efficiently harvests crops and reduces agricultural inputs can be of benefit to producers. In turn, this...