The need for reliable and effective is a must for many who play sports. CopperJoint is answering the call.
(PRUnderground) April 26th, 2021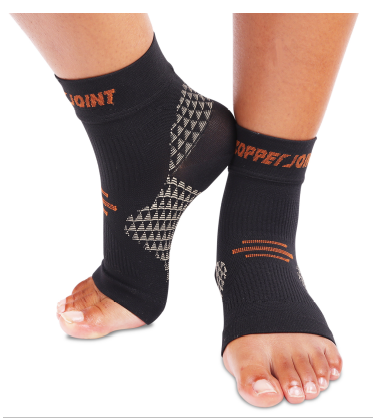 There's few basketball players of any level who don't injure an ankle sooner or later. The same can be said for many other sports. The good news is help is available that can maintain mobility and speed recovery. In that spirit, leader in health and wellness products CopperJoint recently celebrated the reception its CopperJoint Ankle Support for Men has received from basketball players and other athletes. The top quality ankle support choice is available at an attractive price point on Amazon.com.
"We are so happy to see our ankle support for men product become so popular with athletes," commented Stefano Starkel, Founder of CopperJoint. "When a joint support product is embraced by people who play sports, we know it will be equally popular with those who just need a brace or compression sleeve for their everyday lifestyle."
The CopperJoint Ankle Support for Men compression sleeve is available in four different sizes to help get a great fit. It also features an adjustable strap for even more precision. The material of the ankle support brace is quick and easy to wash for maximum hygiene. Pure copper is infused in its body to help encourage and potentially accelerate internal healing.
In addition to sports' issues the ankle sleeve is also effective for Plantar Fasciitis, Achilles Tendonitis, reducing inflammation, and improving circulation.
The positive feedback for the product continue to pour in.
Michael U., recently said in a five-star review, "Lots of stuff going on with my feet, I won't bore you with details. But I want to put off surgery without doing too much additional damage. My hope was that compression would stabilize the foot structure somewhat so I can work and recreate with reduced pain. So far, it's working. I also received a coupon with a nice discount on a second order, and now I can use a fresh sleeve every day always having a fresh one available. I'll be buying more in the future."
For more information or to order be sure to visit https://www.amazon.com/ankle-support-for-men/dp/B085RW3QQ1.
About CopperJoint
At CopperJoint, we provide drug-free, pain-relief solutions by creating premium copper-infused garments and supports. Our goal is to improve the quality of life for people suffering from joint and muscle pain due to accidents, arthritis, age, or injury. We are committed to use only the highest copper content and make copper compression therapy affordable for everyone.
The post CopperJoint Ankle Support for Men Receives Praises From Basketball Players and Other Athletes first appeared on PRUnderground.
Press Contact
Name: Stefano Starkel, Founder

Phone: 307-309-4055

Email: Contact Us

Website: https://www.copperjoint.com
Original Press Release.