Home care agency explains how technology can be a godsend for the elderly at home and how senior home care is a complementary service when introducing helpful new tech to their daily routine
(PRUnderground) March 29th, 2021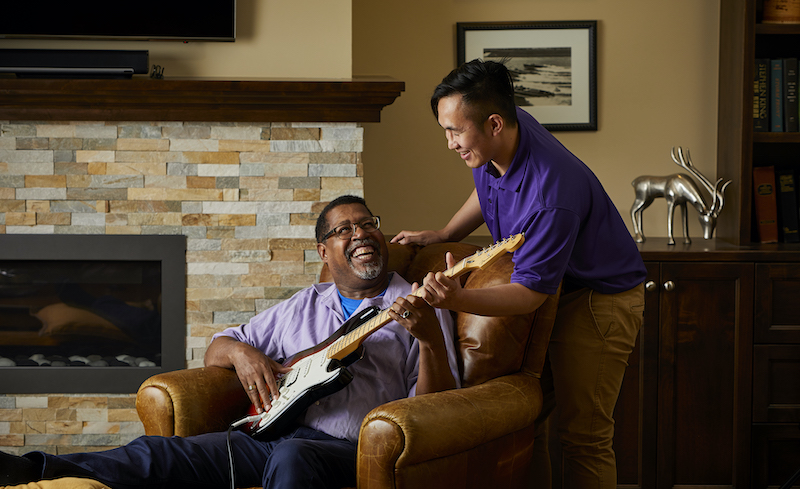 The COVID-19 pandemic has highlighted a multitude of advantages offered by professional care for the elderly and infirm in their own homes in Westchester County, New York, but one more benefit is just coming to light.
While the disease-prevention aspect of home care for seniors is undoubted, infection has not been the only danger endured by the elderly in nursing homes. Isolation also takes its toll, according to a recent online report by the MLive Media Group that cites emotional distress caused to nursing home residents by necessary confinement during the pandemic.
Westchester home care agency Touching Hearts at Home NYC is well aware of the obvious advantages of aging in place for seniors, not least the ability to remain socially active in the protective care of a professional home health aide. However, Touching Hearts NYC owner Craig Sendach knows another benefit you might not have heard about.
Before we go into that, let's explore another takeaway from the MLive report that is highly relevant when considering in-home care services for seniors in Westchester.
"There is technology out there that helps accelerate care and how care is delivered, and the home care arena is going to embrace that," care industry insider Barry Cargill was quoted as saying. "It's fundamental change."
Cargill identified telehealth and remote patient monitoring as just two tech utilities that make for an easier task when taking care of the elderly at home.
In a recent article published online, Touching Hearts NYC's Craig Sendach tackles the subject of technology in senior home care in some detail. Craig gives a high rating to Amazon's Alexa (as seen on TV), mentions the usefulness of the Apple watch, delves into the upside of smartphones and tablets, and touches lightly on the benefits of social media.
Most of us will have heard of at least some of these, but Craig also points to one related service you might not have considered.
"If your senior is resistant to using new equipment, you may find that professional senior care can help him or her adapt," he explains in his article.
What do home caregivers do to achieve this? The answer is that Touching Hearts NYC's caregivers are trained to patiently work with the elderly in Westchester and other areas to help them overcome any fear of technology and learn to use it.
Ro, a health-care technology company, announced last week that it is working with the state health department on a pilot program in parts of Westchester to organize COVID-19 vaccinations for people, including the homebound elderly, who face problems accessing vaccination sites, Newsday.com reported.
One final as-yet-unmentioned benefit of Touching Hearts NYC's home care for the elderly in Westchester could be a cost advantage against alternatives.
Touching Hearts NYC offers a full range of home care services for the elderly, infirm, and disabled throughout Westchester and the New York City area. From full-time home care to just a few hours a week, all services can be tailored to a client's needs and means through discussion via an obligation-free consultation.
About Touching Hearts at Home NYC Area
About Touching Hearts at Home NYC Area – Touching Hearts NYC offers in-home care to aging adults, seniors, and individuals living with medical conditions and disabilities at rates considerably more affordable than care outside the home. The agency is known for Non-Medical Home Care, Companionship and Homemaker services in New York City's Manhattan, Brooklyn, Westchester, Queens, and Rockland areas. Its focus is on providing person-centered care to help those in need remain in their home, maintain the lifestyle they choose, and feel confident they will be treated with the respect and kindness they deserve.
The post Westchester seniors get tech head start with Touching Hearts NYC first appeared on PRUnderground.
Press Contact
Name: Craig Sendach

Phone: +1-212-201-6139

Email: Contact Us

Website: https://www.touchinghearts.com/nyc/
Original Press Release.