No soaking required; Self-cleaning machine; Fresh Plant Based Non Dairy Milk from Rice, Almonds, Oats, Soy, Cashews, Macadamias and Coconuts
(PRUnderground) March 3rd, 2021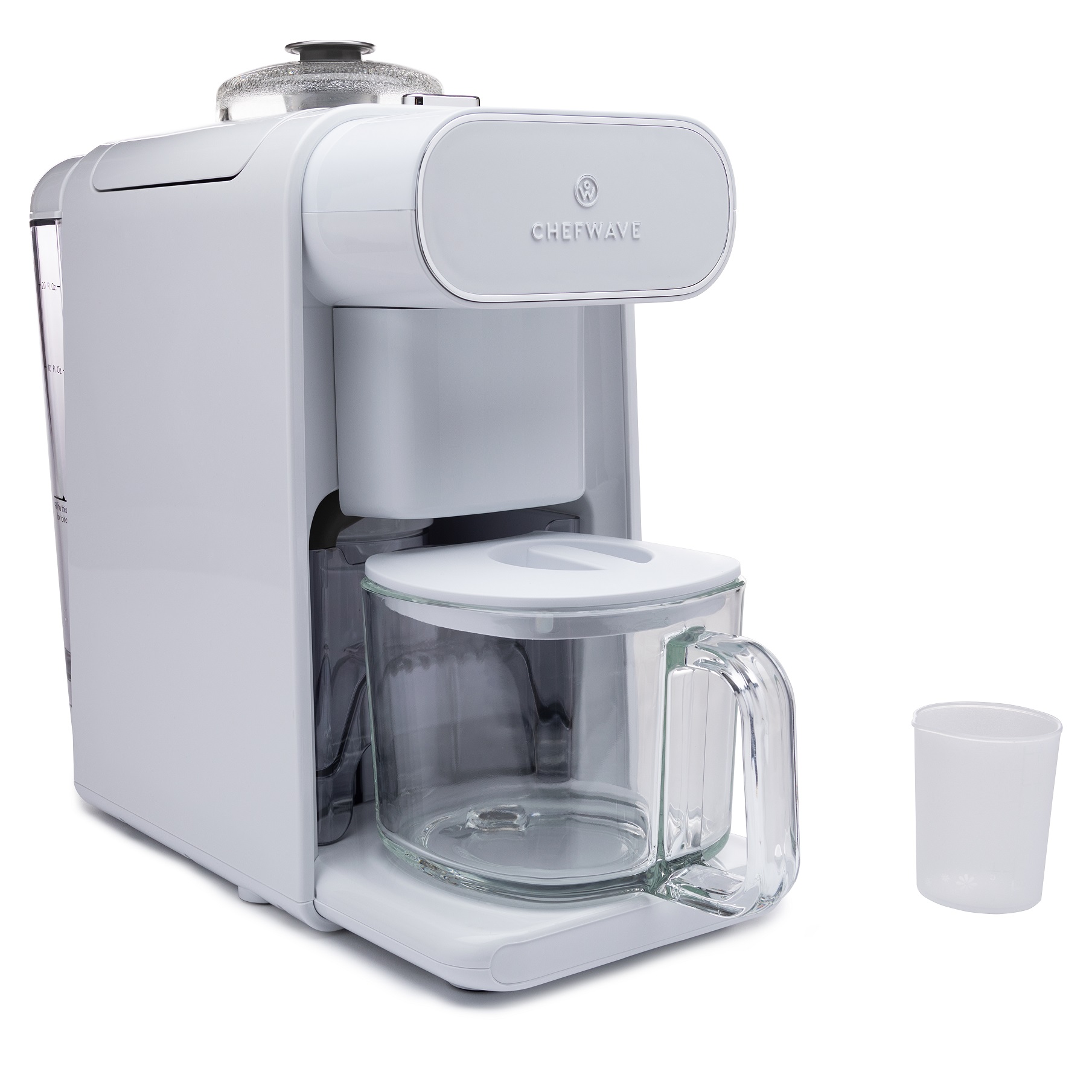 You used to have two choices when you wanted a non-dairy milk alternative. You soak, grind, heat, and strain it (and clean up the mess) yourself. Or you could spend money on the pre-packaged stuff.
But now there's a third option, and it's a game-changer. The ChefWave MILKMADE NON-DAIRY MILK MAKER lets you make creamy, delicious vegan milk at home in less than 20 minutes from start to finish. All you need is water and a few nuts, oats, or soybeans – the Milkmade does the rest. It's never been simpler or faster to make non-dairy milk alternatives at home.
Unlike other milk-making methods, there's no need for prep work with the Milkmade. You don't have to pre-soak the nuts overnight and you don't even need a strainer. Its patented steam technology extracts every bit of flavor for a rich, balanced taste, and the superfine grinder gives you a silky-smooth finish every time.
Need one more reason to cheer this must-have kitchen companion? It's SELF-CLEANING!
It's easy to customize your beverage with the Milkmade. Six pre-settings let you make lactose-free milk at the touch of a button: Use Rice, Almonds, Oats, Soy, Cashews, Macadamias and Coconuts, among others, to make the non-dairy milk of your choice. Add sweetener, vanilla, or other flavorings and you've got a frothy, customized drink on demand. Make it instantly – or use the delayed-start option for fresh non-dairy milk any time you want it.
What's more, you save time AND money with the Milkmade. It turns just 1 tablespoon of nuts into 20 oz. of milk. That's pennies on the dollar compared with store-bought milk alternatives!
Sleek and chic enough to keep on the counter, the Milkmade stands about 18 inches tall and weighs only 1 pound. A glass pitcher with a lid is included so you can keep your milk safely in the fridge for up to 5 days. There's also a free recipe book for dairy-free inspiration. And you get peace of mind with ChefWave's 1-year warranty.
MilkMade (MSRP $169.95) is available at MyChefWave, Amazon, Lifestylesbyfocus.com, Walmart, and other retailers.
About Lifestyle By Focus
Dedicated to helping hobbyists achieve their creative goals, Lifestyle by Focus is a hobby-focused retailer based in Brooklyn, New York. Our customers are a multifaceted, passionate community of individuals with a wide array of interests and expertise. Lifestyle provides the equipment and guidance you need to do whatever you love most, from cooking and woodworking to sports and outdoor activities. We offer the best prices and the hottest deals so that you can live the ultimate hobbyist lifestyle without breaking the bank.
Our catalog spans a wide variety of categories including home and kitchen, tools and home improvement, sports and outdoors, hunting, and fashion accessories. We carry over 30,000 products from top brands including Cuisinart, Zojirushi, Thermos, Nuwave, Jura, Ninja, OXO, Makita, Festool, Arbortech, Fuji Spray, Wilson Sports, Rawlings, Under Armor, Badlands, Ravin Crossbows, Vortex, Smith Optics, and Bolle.
The post New! MILKMADE Non-Dairy Milk Maker - The Easiest Way to Turn Nuts into Fresh, Plant Based Milk in Minutes first appeared on PRUnderground.
Press Contact
Name: Vicki Garfinkel Jakubovic

Phone: 9735198926

Email: Contact Us

Website: https://lifestyle.focuscamera.com/
Original Press Release.