Having an easy to use workout log can be a huge benefit for someone's training program. Bunnfit is a new app answering the call that's not only powerful and effective, it's also 100% free.
(PRUnderground) October 6th, 2020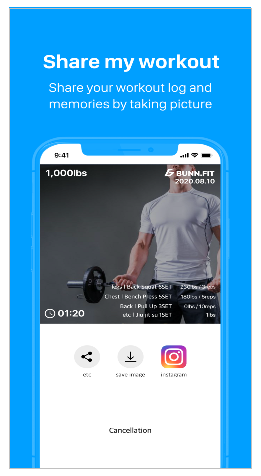 Experts agree getting fit, losing weight or building strength and conditioning all share something in common. They are extremely difficult to do without following a plan and keeping track of progress.The good news is technology is meeting that need, removing having to carry pens and notebooks to the gym something which is almost always an inconvenience. Enter Bunnfit, the easiest, simplest to use and intuitive workout log app on the market today. Recently debuting for both Android and iOS devices and 100% free, fitness enthusiasts couldn't be happier with the news.
"Working out is our passion," commented a spokesperson from Bunnfit. "And Bunnfit is an amazing tool we fully believe in. A Workout Log, Tracker, Timer, that can all be relied on for free. Never forget a workout again, and start seeing even better gains when you know exactly what you did in your last session and can set the weight you are using accordingly."
According to Bunnfit, some highlights of the app's features include a high-quality calendar-based fitness planner; the ability to make a routine by simply copy-pasting the previous plan; add notes to the exercises performed, to track them later; the ability to set goals and meet goals; easily share exercises and workout plans with friends; a special auto-break timer that can set the time between sets and exercises; and much more.
To learn more about Bunnfit and to set the stage to go Beyond Your Record be sure to visit https://bunnfit.com.
About Bunnfit
Bunnfit: Workout Log, Tracker, Timer as an all-in-one fitness tracker app to help you keep a track of your regular workouts.
The post Bunnfit Launches Easiest, Simplest and Most Intuitive Workout Planner App Free for Android & iOS Devices first appeared on PRUnderground.
Press Contact
Name: Paul Lee

Phone: (360) 229-5814

Email: Contact Us

Website: https://bunnfit.com
Original Press Release.