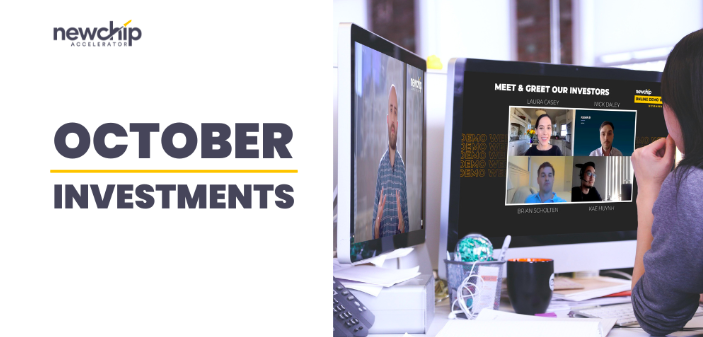 Austin, Texas - September 29, 2022 - The Newchip Accelerator, the #1 online global startup accelerator program, announced today a new round of strategic investments in nine of its most promising startups for its October 2022 Portfolio Batch.
"We're incredibly excited to be participating in the rounds of these world-class founders," says Nihar Patel, Chief Investment Officer at Journey Venture Partners. "Out of the 1,000+ startups we've reviewed so far this year, investors should be keeping an eye on these founders going into 2023."
Founder and CEO Andrew Ryan added, "We're here to support top founders and their visions to solve the world's challenges. These investments reflect our core values and  whether you're a consumer or investor you need to put these startups on your radar:"
In what Ryan remarked was "a tremendous effort of hundreds of hours of diligence, the credit for our decisions this month goes to our team of Venture Partners that led these investments: Cassidy Szarnicki, Joseph Liu, and Laurie Cercone."
Meet the October 2022 Investment Batch:
Joule Case (Series A) - A mini battery powerhouse that's eco-friendly, portable, and stackable. Supercharged to power the biggest festivals like EDC.

SuperPhone (Series A) - Founded by producer and singer, Ryan Leslie, SuperPhone is a mobile messaging platform built for brands, e-commerce, artists and entertainers, coaches, consultants, and organizations to increase engagement, drive revenue, and build better relationships.

8 Myles (Seed) - Your favorite comfort food: Mac n' Cheese, using clean ingredients without sacrificing flavor. You can find them at Target, Whole Foods, and Sprouts.

Fyncr (Series A) - Helps manage all your credit card bills in one place, getting additional rewards from over 500+ merchant partners.

Vitality Rx (Series A) - subscription health and wellness platform specializing in men's health, from the comfort of their home.

Watershed Therapeutics (Seed) - A drug delivery platform providing treatment and chronic therapy for women to combat infections and diseases.

Urban Aeronautics (Series A) - Redefining urban mobility in an eco-friendly way, compact, the size of an SUV, featuring CityHawk Air Taxi: access the city in a whole new way, and CityHawk EMS: which will save time and lives.

MO Technologies (Series A) - Democratizing credit issuing by providing an end-to-end credit tech infrastructure, using ML/AI to improve financial decisions and management.

Reuben Oliver (Pre-Seed) - sustainable luxury wear, which can be found in all high-end stores including Bergdorf Goodman, Revolve, Fred Siegel, Nordstrom, and Kith.

To read more about these startups, visit Newchip's latest blog.
About Newchip:
Newchip is the #1 online global startup accelerator that provides world-changing early-stage companies with the tools, training, mentorship, and investor network needed to successfully raise capital and scale their company to an eventual exit. Currently, Newchip operates accelerator programs in more than 120+ countries and has helped raise in excess of $2.2B for over 2,000 startups globally.
Media Contact
Company Name: Newchip
Contact Person: David Triana
Email: Send Email
Country: United States
Website: www.otterpr.com