Planet Fitness (NYSE: PLNT), one of the largest and fastest-growing franchisors and operators of fitness centers in the U.S., was featured in a recent analysis report. The report, written by LikeFolio Founder Andy Swan, discusses PLNT's market performance and positioning. "With health and wellness becoming even more important to consumers, Planet Fitness is well-positioned to capitalize. PLNT Purchase Intent Mentions are trending +72% higher YoY, outpacing other gyms such as Equinox, Anytime Fitness, LA Fitness, and 24 Hour Fitness by a large margin. With inflation starting to hit more and more people, consumers will begin to trim unnecessary expenses such as high-cost gyms, in favor of cheaper alternatives like Planet Fitness, which costs as little as $10 per month. In a recent note, Jefferies analyst Randal Konik recently stated consumers will want less expensive and more convenient alternatives during economic uncertainty, which favors Planet Fitness."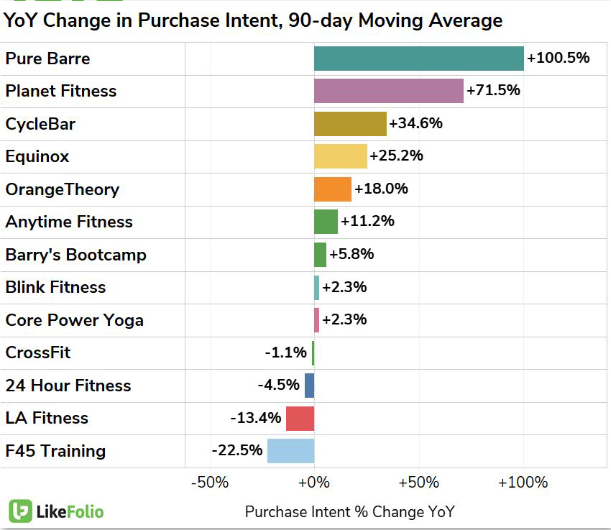 About Planet Fitness
Founded in 1992 in Dover, New Hampshire, Planet Fitness is one of the largest and fastest-growing franchisors and operators of fitness centers in the United States by number of members and locations. As of March 31, 2022, Planet Fitness had more than 16.2 million members and 2,291 stores in 50 states, the District of Columbia, Puerto Rico, Canada, Panama, Mexico and Australia. The company's mission is to enhance people's lives by providing a high-quality fitness experience in a welcoming, non-intimidating environment, which is called the Judgement Free Zone(R). More than 90% of Planet Fitness stores are owned and operated by independent business men and women. For more information, visit http://investor.planetfitness.com.
About InvestorWire
InvestorWire is the wire service that gives you more. From regional releases to global announcements presented in multiple languages, we offer the wire-grade dissemination products you'll need to ensure that your next press release grabs the attention of your target audience and doesn't let go. While our competitors look to nickel and dime you with hidden fees and restrictive word limits, InvestorWire keeps things transparent.
As part of its service, InvestorWire provides coverage of noteworthy announcements. To further expand visibility of achievements being made throughout a multitude of sectors, InvestorWire's syndication partners have extended the digital coverage to include individual broadcasts on financial websites and platforms visited by millions of investors daily.
For more information, please visit https://www.InvestorWire.com
Please see full terms of use and disclaimers on the InvestorBrandNetwork website applicable to all content provided by IBN, wherever published or re-published: http://ibn.fm/Disclaimer
InvestorWire (IW)
8033 Sunset Blvd Suite 1037-IW
Los Angeles, CA 90046
310.299.1717 Office
www.InvestorWire.com
Editor@InvestorWire.com
InvestorWire is part of the InvestorBrandNetwork.