A smooth killer for the morning-after blues.
United States - June 4, 2023 —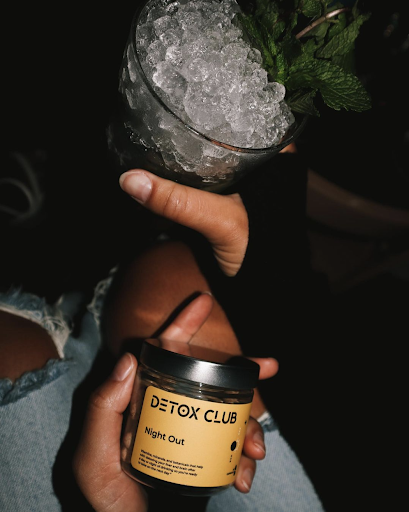 Say goodbye to the morning-after grogginess as veteran-owned company Detox Club proudly presents 'Night Out,' a revolutionary post-drinking detox supplement that rejuvenates the body after a day or night out. The groundbreaking post-drinking recovery solution is designed to detoxify the body and guarantee a refreshed, hangover-free mind and body, ready to take on a new day.
When the party ends, most people are left to nurse hangovers and purge toxins from their bodies, which could take hours or even days. The founders of Detox Club realized that their social routine wasn't boding well for their productivity and set out to create a recovery solution that prepared them for the next day. 'Night Out' has proved effective in killing the dreaded morning-after effect of alcohol as it turbocharges the body's ability to detox alcohol toxins. This post-drinking recovery vitamin worked wonders for the Detox Club team, which led to its public release. 
"At its core, we made this product for ourselves, and we hope it resonates with others as profoundly as it has with us."
'Night Out' is a science-backed Ph.D. Biochemist-formulated recovery supplement with a powerful blend of ingredients like Japanese Raisin Tree (DHM) and Milk Thistle, which boost the body's natural detoxification to restore vitality, replenish nutrients, and eliminate toxins. The supplement addresses the root cause of hangovers: the body's slow removal of toxins. It also helps protect the brain by creating a unique barrier with the trifecta of ALA, ALCAR, and Vitamin C to enhance mental clarity, focus, and enhanced recovery. Detox Club aims to promote mental health and well-being through nutrition while being environmentally conscious of its products' production, distribution, and ingredients. 
"From ingredient sourcing to manufacturing in the USA, we put exhaustive research and extensive testing into our formula to ensure it's safe and effective."
In addition, 'Night Out' is unique in that it encourages hydration since the dosage should be taken with ample amounts of water before going to bed after a day or night of drinking. This solves the two-step recovery process after moderate indulgence – the elimination of toxins and adequate hydration.
More information about 'Night Out' is available on their website or Instagram.
The next step in post-drinking recovery – 'Morning After.'
Detox Club understands that every person has unique needs with every product, so a one supplement fits all "approach" is unacceptable. As a result, the company is developing a new solution, 'Morning After,' for people who don't like the Vitamin-water combination that 'Night Out' offers.
People need to hydrate for optimal toxin elimination in the body, but many forget to do that. 'Morning After' will be a tasty beverage that provides a one-stop solution to speeding up toxin removal and ensuring adequate hydration.
In addition to this, Detox Club is also looking into other future recovery products like gummies to help people detoxify their bodies. "Ultimately, we want to give people various options so they can pick the one that works best for them since no one person is the same as another."
About Detox Club:
Founded in 2020 by Dan Henney and Brian Nettles, Detox Club is a veteran-owned company that aims to improve people's well-being and mental health regardless of the social activities that color their lives. By providing post-drinking recovery supplements like 'Night Out,' the company aims to help people embrace their lifestyles. In addition to this, the company is committed to supporting charities focused on mental health issues, suicide awareness, and PTSD treatment for veterans. For every bottle sold, Detox Club donates a percentage of its profits to these causes.
The statements in this press release have not been evaluated by the Food and Drug Administration. These products are not intended to diagnose, treat, cure, or prevent any disease. Drink responsibly, and never consume alcohol and drive.

Contact Info:
Name: Dan Henney
Email: Send Email
Organization: Detox Club LLC
Address: United States
Website: http://detoxclub.com/

Release ID: 89099117
If you detect any issues, problems, or errors in this press release content, kindly contact error@releasecontact.com to notify us. We will respond and rectify the situation in the next 8 hours.